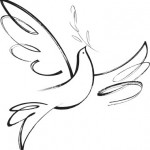 Goldie Ellen Shumway Ginn, 76, of Otway, Ohio, went home to be with the Lord in Heaven on Friday, July 28, 2017.
She was born March 20, 1941, at Hindman (Knott County), to the late Rev. Harold Leslie and Grace Ethel Earl Shumway.
Goldie was a homemaker, a member of McDermott United Methodist Church, and a 1959 graduate of Clark County High School (Winchester).
She is survived by her loving husband of 58 years, Ray W. Ginn Jr.; two sons Thomas Ginn of Mt. Sterling and Scott (Patty) Ginn of Portsmouth, Ohio; one daughter, Anita (Jeffrey) Ayers of West Union, Ohio; six grandchildren, Amanda Barry, Matt Brooks, Amy Patterson, Zachary Ginn, Andrew Ginn, and Melissa Sparks; six great-grandchildren; several step-grandchildren whom she loved dearly; one brother, Alger Shumway of Catlettsburg; and one sister, Mildred Rogers of Mt. Sterling.
She was preceded in death by her precious daughter, Sonja (Ginn) Brooks and a brother, Tracy Shumway.
Services will be at 1:30 p.m. Tuesday, August 1, 2017, at McKinley Funeral Home in Lucasville, Ohio, with Fran Newman officiating. Burial will follow in Scioto Burial Park at McDermott, Ohio. Friends may call from 11:30 a.m. until 1:15 p.m Tuesday at the funeral home.
In lieu of flowers, memorials are suggested to McDermott United Methodist Church, PO Box 1, McDermott, OH 45652, and SOMC Hospice, 2201 25th Street, Portsmouth, OH 45662.