Gary Lee Thomas, 76, Fire Chief of the Tollesboro Fire Department for the past 35 years, passed away Sunday, January 3, 2021, at Meadowview Regional Medical Center in Maysville.
He was born June 2, 1944, at Mt. Carmel, a son of the late William Hinton and Velma Florence McNutt Thomas.
Gary served as fire chief for the Tollesboro Fire Department for 35 years and as a member for 56 years. He was also a 911Board member and member of St. Mary's Lodge #240. Gary retired from Southern States in Maysville and was a lifelong farmer.
Gary is survived by his wife of 59 years, Dora Lucille Hester Thomas; two sons, Terry Ray Thomas (Terri Lynn) and Hinton Lee Thomas, of Tollesboro; three grandchildren, Bridget, Nicholas, and Allison; two great-grandchildren, RaeLee and Brady; one brother, Denny Thomas of Tollesboro; and four sisters, Wilda Werline of Orleans, Indiana, Niki Applegate of Tollesboro; Christa Moffett of Frankfort, and Kelly Lynn Thomas of Maysville. He also leaves many other family members and friends who will sadly miss him.
In addition to his parents, he was preceded in death by one brother, Ellsworth "Snooks" Thomas.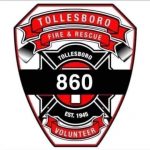 Services will be at 1:00 p.m. Wednesday, January 6, 2021, at Tollesboro Funeral Home with Bro. Layne Wagner and Bro. Johnny Byard officiating. Burial will follow in Mt. Carmel Cemetery in Fleming County.
Friends may visit from 11:00 a.m. until 1:00 p.m. Wednesday, January 6, 2021, at Tollesboro Funeral Home, 11918 KY 57 at Tollesboro. A Masonic service will be at Noon Wednesday by St. Mary's Lodge #240.
Pallbearers will be Daniel Thomas, Brian Thomas, Nicholas Thomas, Roger Ferguson, Brady Love, Josh Lykins, Charlie Kendal and Dwayne Rice. Tollesboro Fire Department Members, Gary McClurg, Wendall Applegate, Tommy Atherton, Larry Tucker, and Denny Thomas will serve as honorary pallbearers.
Due to COVID-19 regulations, we ask that everyone wear a mask and practice social distancing.