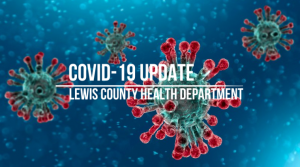 Lewis County officials announced they have learned of the fourth confirmed case of COVID-19 here.
Lewis County Health Director Anita Bertram said the Lewis County Health Department was notified of the most recent confirmed case of COVID-19 Wednesday morning.
"As with the previous cases, we are in the process of doing contact investigations and making appropriate follow-up," Bertram said.
Bertram says she and other local officials are working with the Centers for Disease Control and Prevention (CDC) and Kentucky Department for Public Health (KDPH) to identify and contact all those who may have come in contact with the infected person.
These identified individuals will then be monitored for fever and other COVID-19 symptoms.
Details about the individual will not be provided because of medical privacy laws.
Judge Executive Todd Ruckel says procedures in place locally have helped to slow the spread but added confirmed cases here have been expected, especially as the county prepares to conduct testing locally.
Lewis County's first confirmed case was reported on March 25. The second case, reportedly connected with the first, was reported on April 2.
On April 19 a Lewis County case was reported by the state but was later determined to be a former resident.
The third local case was reported on April 22.
All three cases have now fully recovered, Bertram said.
Ruckel asks residents to follow recommended guidelines to help to continue to slow the spread of the virus as much as possible.
"We must take this seriously," Ruckel stated.
He adds that he has been made aware of rumors concerning the number of local cases and their circumstances.
"If you see an unsubstantiated statement on social media, please do not share or repeat it," he said.
Ruckel urges citizens to be cautious of rumors and only depend on proven and good sources of news.
Ruckel said the county is continuing to receive personal protective equipment for community partners and he continues to conduct and attend regular updates with community stakeholders and state agencies as preparations to reopen are underway.
"The best way to prevent illness is to avoid being exposed to this virus," Bertram said. "There are everyday preventative actions you can do to help prevent the spread of this virus and, at this time, I highly recommend wearing a mask while out in public."
The health department offers these tips:
• Avoid all public gatherings.
• Wash your hands often with soap and water, especially after going to the bathroom; before eating; and after blowing your nose, coughing, or sneezing.
• Avoid close contact with people who are sick.
• Avoid touching your eyes, nose and mouth.
• Wear a mask covering your nose and mouth in public.
• Stay home when you are sick.
• Cover your cough or sneeze with a tissue, then throw the tissue in the trash.
• Clean and disinfect frequently touched objects and surfaces using a regular household cleaning spray or wipe.
COVID-19 is an emerging disease and there is much more to learn about its transmissibility and severity.
• Between people who are in close contact with one another (within about six feet).
• Via respiratory droplets produced when an infected person coughs or sneezes.
• These droplets can land in the mouths or noses of people who are nearby or possibly be inhaled into the lungs.
Lewis County residents may dial 606-202-8600 for more information on COVID-19. The state hotline is 800-722-5725.
[This story is being provided for free to our readers during the coronavirus outbreak. Consider supporting local journalism by subscribing to The Lewis County Herald.]