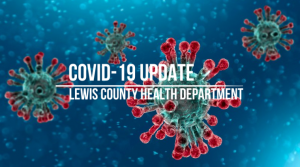 Officials have announced the fifth confirmed case of COVID-19 in Lewis County.
Lewis County Health Director Anita Bertram said she was notified Thursday morning as she was assisting with COVID-19 testing in Vanceburg. The newly identified case is not a result of or related to Thursday's testing.
"We have already begun the process of contact investigations and follow-up with this latest case," Bertram said.
Bertram says workers will attempt to identify and contact all those who may have come in contact with the infected person.
These individuals will then be monitored for fever and other COVID-19 symptoms.
Details about the individual will not be provided because of medical privacy laws.
Judge Executive Todd Ruckel says he urges everyone who can to take a coronavirus test.
The next Lewis County testing date is May 12 from 8:00 a.m. until Noon at the Vanceburg Fire House/Community Center on Clarksburg Road.
"The testing will be free for anyone age 18 and older," he said. "We are very fortunate to have this available here for the members of our community."
"I want to thank everyone who has worked to make this possible," he added.
"It is important that we determine every individual who has been infected with this virus," Ruckel said.
"We need to have those who have been infected to quarantine so they don't continue to spread this virus unchecked," he added.
"I want us to look forward to reopening our Lewis County businesses," he added. "We will need to adhere to at least the minimum requirements and continue to work to slow the spread of this coronavirus."
Lewis County's first confirmed case was reported on March 25. The second case, reportedly connected with the first, was confirmed on April 2.
On April 19 a case was reported by the state but was determined to be a former resident of Lewis County.
The third local case was reported on April 22.
All three cases have now fully recovered, Bertram said, leaving two active identified cases in the county on Thursday afternoon.
The fourth case was confirmed on Wednesday and health department workers are now conducting appropriate follow-up on the two most recent confirmed cases.
Ruckel asks residents to follow recommended guidelines to help to continue to slow the spread of the virus as much as possible.
He stated he is disappointed in those who are perpetuating rumors concerning the number of local cases and the circumstances surrounding them.
"Please do not share and spread these unfounded rumors," he said.
Ruckel urges citizens to be cautious of news passed through social media and to only depend on proven and good sources of news.
"I urge everyone to wear a mask when they go out in public," Bertram said. "Everyone should know the drill by now about social distancing and washing your hands."
Lewis County residents may dial 606-202-8600 for more information on COVID-19. The state hotline is 800-722-5725.
[This story is being provided for free to our readers during the coronavirus outbreak. Consider supporting local journalism by subscribing to The Lewis County Herald.]