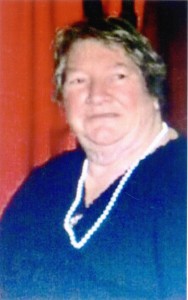 Eva "Snookie" Lee Montieth King, 71, of Avilla, Indiana, passed away Sunday, September 9, 2018, with her family by her side.
Survivors include her husband, Edgar Jr. King; four children and their spouses, Eva and David Cooper, Michelle and Bryan Fite, E.J. King and James and Deborah King; 10 grandchildren, Kayleana and Koby Zornes, Kyle and Kelsey Cooper, Damian Bowers, Tasha King, Kendal Huff, Kenzy Cooper, Madisyn King, and Dalton King; two great-grandchildren, Kadyn Cooper and Athena Bowers; her siblings and their spouses, Dorothy Hughes, Anna Thurman, Carl Montieth, Brenda and Gary Bruce, Noble and Amber Montieth, Donna and Scott Bennett, Kathy and Mike Nolen, Mabel and Lovell Nolen, Earl Montieth (Terry), Arta Louise Parker (Joe), Peggy and Tracey Vaughn, Sharon and Randall Creech, and Mike and Kathy Montieth. Also several loving nieces and nephews.
Mrs. King was preceded in death by her parents, Beulah and Carl Montieth.
A memorial service will be held Saturday, September 15, 2018, at 1:00 p.m. at the community center in Eley Memorial Park in Avilla, Indiana.