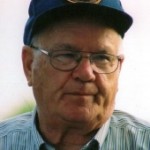 Eugene Lewis, 89, of Camp Dix, passed away Thursday morning, May 30, 2019, at his residence.
He was born on July 22, 1929, in Eby, Kentucky, a son of the late Otto and Laura Cooper Lewis.
Eugene proudly served his country in the United States Army and was of the Christian faith. He enjoyed wood working and spending time with his family.
Eugene is survived by his wife of 66 years, Mary Roar Lewis; six daughters, Tracy Voll (Larry) and Linda Lewis, all of Pewee Valley, Kentucky, Cathy Horsley, Karen Baker (Calvin) and Amy Cooper (Richy), all of Vanceburg, and Lisa Brockman (Jim) of Morehead; 12 grandchildren; 16 great grandchildren; and one sister, Chloe Roe of Olive Hill.
In addition to his parents, he was preceded in death by two brothers, Emory Lewis and Clifford Lewis.
Services will be held 1:00 p.m. Sunday, June 2, 2019, at Globe Family Funeral Chapel in Camp Dix, with Brother Chris Lawhun officiating. Burial will follow in the Lewis Cemetery on Otto Lewis Road in Lewis County, with full military honors presented by the Monte Lewis Stamm Post #5438.
Friends may visit from 6:00 p.m. to 8:00 p.m. on Saturday, June 1, 2019, and after 9:00 a.m. on Sunday at Globe Family Funeral Chapel in Camp Dix, 7975 Lower Kinney Road, Vanceburg, Kentucky 41179.
Condolences may be sent to the family at http://www.globefc.com.