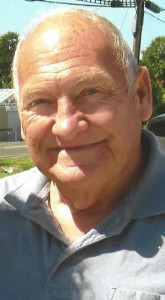 Donald Phillip Lancaster, 75, of Tollesboro, died Saturday, February 4, 2017, at Maysville Nursing and Rehabilitation Facility.
Mr. Lancaster was a member of Plainview Baptist Church and was retired from the Carnation Company He had owned and operated L&L Auto Sales and Service.
He was born in Maysville July 10, 1941, to the late Roy and Ruth Opal Blevins Lancaster.
Survivors include his wife, Marilyn Maxine Baldwin Lancaster; two sons, Don Lancaster (Donna) of May's Lick, and David Lancaster (Julie) of Tollesboro; one daughter, Cynthia Walriven (Monty) of Amelia, Ohio; six grandchildren, Darrin Lancaster (Marsha), Erin Dunlap (Eddie), Matthew Walriven (Ashley), Nicholas Walriven, Justin Lancaster and Brandon Lancaster; five great-grandchildren; and one sister, Alma Applegate.
In addition to his parents, he was preceded in death by three brothers, Thomas Melvin Lancaster, Howard Lee Lancaster and James Anderson Lancaster.
Services will be at noon Friday, February 10, 2017, at Barbour and Son Funeral Home in Tollesboro with Rev. Phil Cropper and Rev. Albert Simmons officiating.
Burial will be in Maysville Cemetery.
Pallbearers will be Darrin Lancaster, Matthew Walriven, Nicholas Walriven, Justin Lancaster, Brandon Lancaster and Eddie Dunlap. Honorary Pallbearers will be Woody Mullins and Shane Swim.
Visitation will be at the funeral home from 6:00 p.m. until 8:00 p.m. Thursday at the funeral home.
Memorials are suggested to Alzheimer's Association, Kaden Tower, 6100 Dutchman's LN Ste 401, Louisville, Ky 40205-3284.
Guestbook at barbourfh.com.