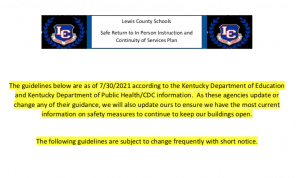 Lewis County Schools have released COVID safety guidelines for the return to school.
Superintendent Jamie Weddington said the guidelines follow the Kentucky Department of Education and Kentucky Department of Public Health/CDC information. 
As these agencies update or change any of their guidance, the district will also update to ensure most current information on safety measures to continue to keep the local facilities open.
A printable PDF may be found below.
This is the text of the just-released guidelines:
The following guidelines are subject to change frequently with short notice.
2021-2022 School Year
• Masks are REQUIRED by all ages on the school bus
• Masks are RECOMMENED for all ages in an indoor setting but not REQUIRED
• Students will be placed at the maximum distance as the classroom allows
• High contact surfaces will be disinfected as often as possible
• The Lewis County Health Department will be responsible for all quarantines and contact tracing.
• Vaccine information is available at local medical provider
• We strongly encourage all unvaccinated adults and children to wear masks to help prevent the spread of COVID.
Additional Information Bus Safety
What will happen while my child is on the bus and what safety measures are being continued?
•All students will be expected to wear a mask while on the bus unless there is a documented medical issue from a physician. If a student forgets his/her mask, a disposable mask will be provided by the bus driver for the trip to school.
•All students will be provided hand sanitizer upon boarding the bus.
•Students with family members on the bus will be directed to sit together.
•Students will be assigned seating. Students will be assigned the same seat for both morning and afternoon routes.
•Students will remain seated at all times with no congregating in the aisles.
•Students will be instructed on safety practices while on the bus.
•All drivers and monitors will be trained on safety procedures and sanitizing procedures.
•High contact surfaces will be disinfected after each bus route and as often as possible.
•After each bus route, windows and doors will remain open, weather permitting, to ventilate buses.
•Drivers and monitors will wear masks when students are on the bus.
GENERAL SCHOOL AND CLASSROOM SAFETY
(additional school specific guidelines may be provided by each school)
What will happen while my child is in school?
•There will be no large group holding areas or congregating areas.
•When possible, seating will be arranged to allow for maximum distance between each student.
•Students will be seated facing the same direction in all classes.
•Each classroom will be required to maintain a daily seating chart.  School administrators will be required to keep all classroom seating charts on file for contact tracing purposes.
•One way traffic patterns will be in place in the hallways for students to follow during any transition time so that no students are passing in a two-way direction.
•Hand sanitizing stations will be placed throughout the building as students travel to their next class.
•Students will be excused for restroom breaks in smaller numbers.  Teachers will monitor the number of students in the restroom.
•Water fountains will not be open.  Students will be encouraged to bring their own water bottles from home.
•Recess schedules will be structured to limit the number of classes on the playground at one time.
•Students will wash/sanitize hands before and after participating in outdoor exercise.
•Limiting visitors in schools. Any person who is an essential visitor (e.g. parents/guardians, outside agencies) will adhere to all safety guidelines including: temperature checks, wearing a mask, social distancing, and sanitizing hands.
What happens if there is a confirmed case of COVID19 in my school?
All decisions for contact tracing and quarantine will be left to local health agencies
2021-2022 system below.
1. The Lewis County Health Department will be notified if a student or other Lewis County resident tests positive for COVID- 19.
2. If a student, or family member of a student, employee, or other adult tests positive for COVID 19, the school system will provide the Lewis County Health Department with a manifest log of any person that came into contact with that individual. This will include seating assignments on the bus, classroom seating charts, cafeteria seating charts and any other information that will assist in contact tracing.
3. The Lewis County Health Department will conduct contact tracing and notify any family if it is determined that a child may have come into direct contact with COVID- 19.
4. Students and/or employees will need to provide the school with a notice of clearance from a medical provider before returning to school.
What can I do as a parent to support my school during this time?
•Take your child's temperature before sending them to school.
•Avoid high risk situations as identified on the Kentucky Department of Public Health website at https://chfs.ky.gov/agencies/dph/Pages/default.aspx .
•Maintain clean masks.
•Model good hygiene practices including hand washing, hand sanitizing, and wearing masks.
•Discuss the importance of social distancing.
•Keep your child home if they are experiencing any of the following:
•fever or chills
•cough
•shortness of breath or difficulty breathing
•fatigue
•muscle or body aches
•headache
•new loss of taste or smell
•sore throat
•congestion or runny nose
•nausea or vomiting
•diarrhea
Lewis County Online Learning Requirements (in the event of extended closure)
In the event of a resurgence of COVD, LC schools will follow a similar path of instruction as we did in 2020-2021 which will utilize online learning pathways such as Clever, google classroom, and other online programs that can be available through technology related devices.
COVID-19 Vaccines are readily available at the Lewis County Health Department-606-796-2632.
Click HERE for a printable PDF of the guidelines.