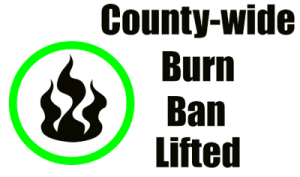 Lewis County Judge Executive Todd Ruckel has lifted the outdoor burn ban following recent rainfall and improved weather conditions.
Ruckel's Executive Order on Tuesday notes the conditions have decreased the threat of forest fires.
Fall Fire Season is underway, however, in Kentucky.
That means no outdoor burning within 150 feet of any woodland or bushland except between the hours of 6:00 p.m. and 6:00 a.m.
During those hours conditions are less likely to cause a wildfire to spread.
The local burn ban was put into effect September 18 during an extended period of high temperatures and lack of precipitation.
Ruckel urges continued use of common sense for any outside burning and stresses anyone conducting burning to follow recommendations from the Division of Forestry to never leave the fire unattended; have a source of water and shovel nearby; clear vegetation for 10 feet around your burn pile; and keep your fire small and controllable.