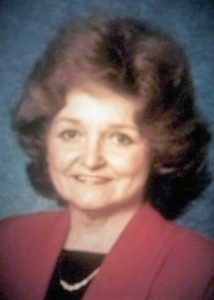 Barbara Lee Rouse (Clark), beloved mother and retired executive secretary, died at the Skilled Nursing Facility in Mountain Mesa, California, on April 12, 2016, following a prolonged illness.
She was born April 30, 1932, and passed just shy of her 84th birthday.
She is survived by her husband of 65 years, Samuel Ray Rouse Sr. of Lake Isabella, California. She is also survived by a daughter, Deborah Sue Dozier of Wasco, California; a son, Samuel Jr. also of Lake Isabella; 10 grandchildren; and 18 great-grandchildren.
She was preceded in death by her daughter, Denise La Verne Vaughn, and her son, Steven Robert Rouse.
Barbara was born and grew up near the Ohio River in an area named after the local train stop of Irwin, located in hills of north central Kentucky. She was the second of seven daughters born to William and Lucille Clark.
Barbara's nickname in school was "Beans." She received this moniker because she once gave an oral report before the class suggesting that beans were so healthful that everyone should eat them for breakfast, lunch and dinner! Though her classmates called her "Beans," her father and family always called her "Bob."  She often said it was because her daddy always wanted a son so he called her "Bob" just for fun.
Soon after graduating high school, she married a handsome good ol' Kentucky boy named Ray Rouse. They were married in 1950 and remained so for life. They had four children.
The Rouses moved to the Bakersfield, California area in the mid 1950s then relocating to Taft California in 1970.  Barbara and Ray continued to work there until retiring to Lake Isabella, California, in 2004.
Barbara was multitalented. She was an accomplished secretary and worked as such at the Taft Community College, the City of Taft and eventually achieved executive secretary status at the Wackenhut Corrections facility in Taft. It was there where she was presented with the "Employee of the Year" award.
She was also a gifted musician. She was a mean guitar picker but preferred playing the piano. She was the pianist for the worship band at the Lighthouse Pentecostal Church in Lake Isabella up to the onset of her illness.
Barbara's greatest passion was being the loving mother, grandmother and great-grandmother to her family and being the dedicated life partner to her husband Ray. Barbara loved God, she loved Ray, she loved her family and she loved people.
A graveside service was held for her at 1:00 p.m. on Friday, April 22, 2016, at the Kern River Valley Cemetery located at 8441 Burlando Rd., Wofford Heights, CA 93285. Her grandson, United States Navy serviceman Richard A. Vaughn, officiated the ceremony.