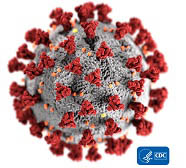 Judge Executive Todd Ruckel has said that all Lewis County government offices are no longer providing in-person services to the public with limited exceptions.
Ruckel said the move, effective at Noon today (3/18/20), is an effort to help curb the spread of COVID-19 by further limiting person-to-person contact.
Those needing to do business with county offices should call to see if the business could be taken care of over the telephone or by other means, adding that emergency situations will be reviewed on a case-by-case basis.
County offices will be staffed and telephones will be answered during regular business hours for that office, he said. This includes all offices in the courthouse and justice center, Ruckel said.
"This decision was not made lightly and I believe it is necessary to ensure the safety of our employees and the public by following recommendations to limit person-to-person contact," Ruckel said.
"Much of the usual business in our offices can still be handled by telephone, email, or fax unless an emergency dictates otherwise," he adds.
Only one point of entry (the front door facing Second Street) at the courthouse will remain accessible and will be monitored by members of the sheriff's office.
The order comes following an order for all state government offices to limit in-person services which became effective at 5:00 p.m. Tuesday.
The circuit clerk's office is no longer issuing drivers licenses and CDLs but Gov. Beshear has granted a three-month extension in obtaining renewals. Driver and permit testing have also been postponed for the time being.
"At this point, we have at least 26 confirmed cases of coronavirus in the Commonwealth with no confirmed cases in Lewis County," Ruckel said.
"I know the changes that our president and governor have asked of us will be difficult but we must work together to get this event behind us as quickly as possible," he added.
"It takes every one of us to make this happen," Ruckel said.
He says the measures he has taken are for the benefit of all citizens, especially those who are more susceptible to the virus.
"I ask, now more than ever, support your local businesses as often and as much as possible, but follow the proper guidelines setup by those trying to protect us," Ruckel said.
"Don't panic and don't be fearful, we must stay calm. Follow the proper guidelines that our leaders have asked of us, we will get through this, he adds.
Here is the text of the executive order:
CLOSURE OF COUNTY GOVERNMENT BUILDINGS
WHEREAS, the President of the United States and the Governor of the Commonwealth of Kentucky have issued directives of social distancing in order to curb the spread of COVID-19;
WHEREAS, a public health emergency exists within the United States and a declaration of emergency remains in effect for Lewis County, Kentucky;
NOW THEREFORE, I, Anthony T. Ruckel, Lewis County Judge/Executive, order that all Lewis County Government Offices are required to cease proving in-person government services to the public beginning at 12:00 p.m. (noon) on March 18, 2020, with limited exceptions. In order to carry out this order, all constitutionally elected officials and agency heads shall adhere to the following until further notice:
• All buildings and sites providing government services shall be closed to the public, and to the extent possible, all in-person county government services shall be provided by the following methods: mail, fax, email, videoconference, any internet-based methods, telephone or by appointment only under emergency needs.
• Employees are prohibited from providing nonessential in-person county government services out of government buildings or sites;
• In the limited circumstances where government in-person services are still provided, all county government employees should engage in social distancing as defined by the Centers for Disease Control.
The following offices may be contacted by the following phone numbers:
Judge/Executive Office: 606-796-2722
County Clerk's Office: 606-796-3062
PVA Office: 606-796-2622
Sheriff's Office: 606-796-2912
County Attorney's Office: 606-796-3201
Circuit Court Clerk's Office: 606-796-3053
Emergency Management: 606-796-3464
Be it therefore ordered this the 18th day of March, 2020.
Note: The Lewis County Herald has removed the paywall on coverage of COVID-19 related stories, providing critical information to our readers.
To support continued vital reporting such as this, please consider a subscription starting at less than 30 cents-a-week.