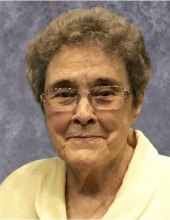 Christine Sheppard Stamper, 83, of Olive Hill, passed away Tuesday, September 17, 2019, at the University of Kentucky Medical Center in Lexington.
She was born May 17, 1936, in Enterprise, Kentucky, the daughter of the late Chalmer and Virgie Marie Boggs Sheppard.
Christine was a member of the Olive Hill Church of Christ and she was a homemaker. She enjoyed going to church and spending time with her sons, grandchildren, and especially with her husband, Gerald.
She is survived by her husband of 63 years, Gerald Stamper; two sons, Danny Stamper (Becky) of Olive Hill, and Terry Stamper (Dianne) of Winchester; six grandchildren, Christopher Brunelle, Bethany Brunelle Ellis (James), Sarah Stamper Withrow (Josh), Graham Matthew Stamper, Riley Allan Stamper and Harrison Brady Stamper; and three great grandchildren, Layla Blu Sutphin, James Robert Ellis III and Jenna Lynn Ellis.
Funeral services will be held at 4:00 p.m. Saturday, September 21, 2019, at Globe Funeral Chapel in Olive Hill, with Brother Ron Arnett, Brother Brent Duncan, and her son, Terry Stamper officiating. Burial will follow in the Bairtown Cemetery in Elliott County.
Friends may visit from 2:00 p.m. to 4:00 p.m. Saturday, September 21, 2019, at Globe Funeral Chapel, 17277 West Highway US 60, Olive Hill, Kentucky 41164.
Christine's grandsons will serve as pallbearers.
Condolences may be sent to the family at http://www.globefc.com.